2017 Mazda CX-3: Versatility and Sportiness
November 23 2016,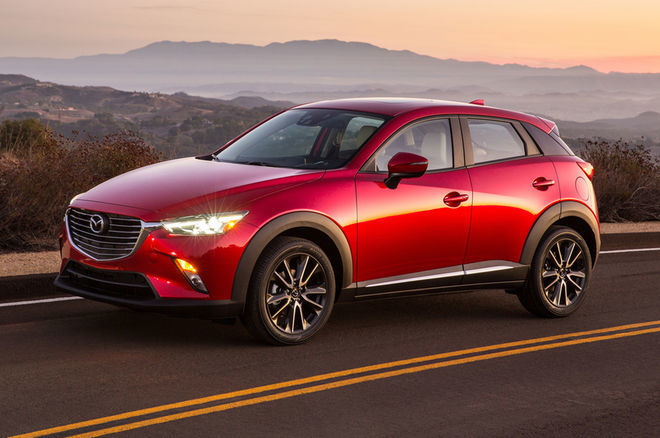 In its first year of existence in 2016, the Mazda CX-3 won the Canadian Automobile Journalist Association of Canada (AJAC)'s Canadian Utility of the Year title.
The result may have surprised the industry, but the fact remains that when you get behind the wheel of the 2017 Mazda CX-3, it becomes easy to see why Mazda's latest subcompact SUV is so popular.
While the 2017 Mazda CX-3 hasn't undergone any major changes, it retains its distinctive silhouette and a personality that is sportier than most of its rivals.
2017 Mazda CX-3: A Real Joy to Drive in Montreal
The 2017 Mazda CX-3 wasn't designed to take on the world's most spacious sport utility vehicles. Built using many components from the Japanese Mazda2, which is unavailable in Canada, it has a rigid chassis, a reduced wheelbase and a low-profile roofline that gives it a dynamic and sporty appearance.
Ideal for couples or small families, the 2017 Mazda CX-3's cargo space can be easily expended to 1,528 liters by lowering the rear seats. That should be more than enough for the needs of most buyers.
Interestingly, the relatively small size of the 2017 Mazda CX-3's wheelbase means a turning radius of just 10.6 meters, making it one of the most agile sport utility vehicles you can buy.
The 2017 Mazda CX-3 has a front-wheel drive setup although buyers can opt for Mazda's i-Activ all-wheel drive system for improved traction and stability on slippery roads. AWD is standard on the 2017 Mazda CX-3 GT.
2017 Mazda CX-3: Affordable and Fuel-Efficient
An affordable option within its segment, the 2017 Mazda CX-3 starts at $20,695 for the base version. Mazda's subcompact vehicle is not just affordable when you buy it, but it is also affordable when you own it thanks to its fuel-efficient 2.0-liter, four-cylinder SKYACTIV-G engine which delivers 146 horsepower and 146 lb-ft of torque.
The Mazda CX-3, with its standard 6-speed automatic transmission, offers more than remarkable fuel consumption ratings of 8.2 liters per 100 kilometers (city) and 6.9 liters per 100 km (highway) with front-wheel drive. All-wheel drive models are also fuel-efficient with an average fuel economy rating of 8.8 l/100 km in the city, and 7.5 l/100 km on highway.
Well-equipped, the Mazda CX-3 offers plenty of features including the MazdaConnect multimedia system, Bluetooth, navigation, leather seats and a heads-up display is some versions. There is also a range of active safety systems.
The size of a sport utility is not always measured in centimeters, but also in driving pleasure. And the 2017 Mazda CX-3 certainly is proof of that. To find out more, come and discover the all-new Mazda CX-3 in Montreal at Mazda Papineau today!